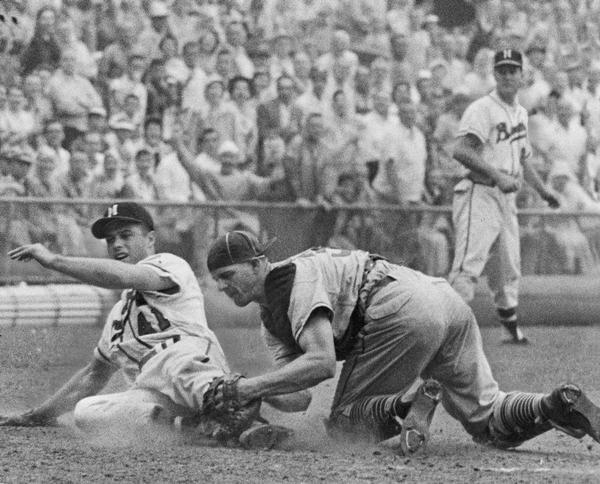 April sees the start of baseball season, not just in Wisconsin, but across the United States. For Wisconsinites, this is a time to start celebrating the Milwaukee Brewers. Or, as we lovingly call them, the Brew Crew.
The Brewers was not the first professional baseball team in Milwaukee. Baseball clubs for both amateur and professional leagues have come and gone since the late 1800s. Things became more permanent in 1953 when the Boston Braves of the National League moved to Milwaukee. According to a historical essay on the Wisconsin Historical Society, the Braves were greeted by 12,000 fans at the train depot and had a parade along Wisconsin Avenue. Their opening game was on April 14, 1953 to a sold out crowd.
For 12 years, the Braves had a successful run in Milwaukee before moving to Atlanta in 1965 where they remain to this day. The city of Milwaukee was crushed because they didn't want their beloved baseball team to move.
Enter Bud Selig, a local businessman and baseball fan. He supported the Seattle Pilots on their move to Milwaukee, rechristening them as the Milwaukee Brewers. The Brewers were officially founded on April 1, 1970.
Another Wisconsin tradition in the springtime? Eating ham for Easter dinner.
I know what you might be thinking: how does the history of baseball relate to Easter ham? The answer: They're both springtime traditions. Opening day at Miller Park in Milwaukee typically happens in April. Easter Sunday occurs the first Sunday after the first full moon of spring. In 2019, they just happened to occur in the same month.
If you are still planning your Easter dinner, I highly recommend using this recipe. It combines Wisconsin cranberry syrup and mustard to create a glaze infused with traditional Wisconsin flavors.
---
Cranberry Burgundy Glazed Ham
Ingredients
Directions
Place ham, fat side up, in shallow roasting pan.
Score fat in diamond pattern; stud with cloves.
Bake in 325 degree oven for 2 ½ to 3 hours or until meat thermometer reads 130 degrees.
In saucepan, stir together cranberry topping, brown sugar, burgundy and mustard; simmer uncovered, 5 minutes.
During last 30 minutes baking time for ham, spoon ½ of cranberry glaze over ham.
Pass remaining as a sauce. Serves between 20 and 28 people.