Welcome to the Sconnie Days Digest, a weekly celebration of the greatest state in America. Find something interesting we should feature? Leave a comment with a link to the article and you might see it in a later issue!
---
Long-Lost Silent Film Starring Harry Houdini to Premiere at Film Festival
Did you know famous escape artist Harry Houdini was born and raised in Wisconsin? It's true! Appleton, the city he was born in, has a museum dedicated to Harry Houdini.
Did you also know that Harry Houdini went on to become a movie star? The film "The Grim Game" which stars Harry Houdini as a man wrongfully accused of murder, was hidden away for a century before resurfacing. Now that the film is restored, it's premiering at the Weyauwega International Film Festival later this month.
Read more about it on the Post-Crescent.
---
Substitute Teacher Honored with Segment on Positively Milwaukee
Joe Greco spent the last 16 years substitute teaching at Menominee Falls High School. KMTV 3 News Now celebrates his contributions to the community with a fantastic profile about how he commands respect from the students. His secret? In order to get respect, you must first give it.
Click the video to see the full story, or read it at KMTV 3 News Now.
---
Mequon-native Becomes Internet Sensation by Naming 27 Cheeses in 30 Seconds
Can you name 27 different types of cheese in 30 seconds? A Milwaukee Bucks fan did! Jamie Kiesl, a resident of Mequon, showed off her prowess at the Milwaukee Bucks' game last Sunday.
Read about her on the Milwaukee Journal Sentinel.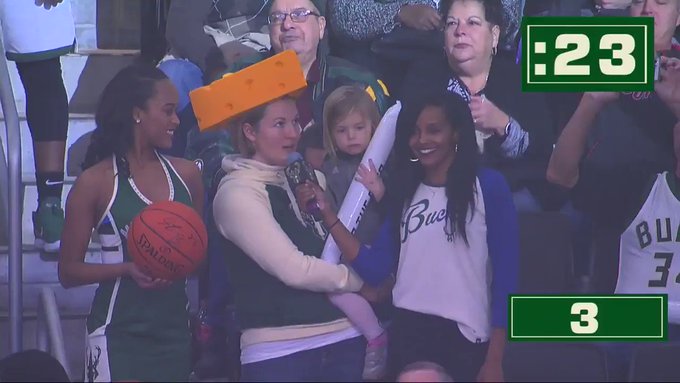 ---
Singer from Barron Advances on The Voice. Watch him on Monday!
A native of Barron, Wisconsin is proving himself a contender for hit reality show The Voice. Last Monday, Chris Kroeze performed a beautiful rendition of "Burning House." He is now advancing to the live playoffs, which will start Nov 12.
Click the video to watch his performance. Read the full story about his advancement at Bring Me the News.
---
Thanks for tuning in. See you next week!